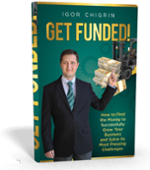 Let me remind you that you still have a chance to get a free pass to the  Canadian Manufacturing Technology Show (CMTS), taking place in Mississauga on September 25-28, 2017.
We offer you a complimentary Exhibit Hall Pass of a $50 value here by entering a promo code – 15810957.
During the book launch party, you'll also get complimentary drinks & food, a chance to participate in the contest and win prizes, and much more.
Hope to see you at the CMTS-2017 at our booth #3620 and our book launch party on September 27.
Sincerely,
Igor Chigrin
Business Funding Expert
You get government financing or our grant writing is complimentary

P.S. The book Get Funded! will show you how a business owner, senior executive or employee without being a certified accountant or having an MBA degree can properly identify the organization's funding needs and navigate the universe of the government and non-government funding options available for businesses in Canada.
The book also includes tips from the funders and writers on how to increase the chances of getting funding; examples of the best answers to the questions in the application forms; little-known details about term loans, lines of credits, mortgages, government grants, tax credits, customs duty drawback, angel & venture capital funding, leasing, asset-based lending, factoring and much more.
Mark your calendar and join us on September 27, 2017.  Don't forget to pre-order the book at the pre-launch price now.